Dijkman houdt op vrijdag 1 juli een oratie over het onderzoek naar datagedreven bedrijfsproces-optimalisatie. Daarbij deelt hij zijn visie op de ontwikkeling van het gebied.
De afgelopen decennia hebben bedrijven veel tijd en geld geïnvesteerd in het 'digitaliseren' van hun processen, stelt Dijkman vast. 'Hierdoor is veel efficiëntie gewonnen, maar veel slimmer dan digitale postbussen zijn de meeste systemen niet: ze worden vooral gebruikt om informatie door te geven.'
De informatie die al in het bedrijf aanwezig is, is te gebruiken om voorspellingen te doen over hoe de werkprocessen zullen verlopen. Dijkman: 'Denk aan hoelang de productie of het transport gaat duren, welke leveranciers waarschijnlijk leveringsproblemen zullen hebben of wat de kwaliteit wordt van een product?' Met de technieken die Dijkman ontwikkelt kunnen deze voorspellingen vervolgens worden gebruikt om tijdens het proces bij te sturen en zo de duur te verkorten, de kosten te verlagen en de kwaliteit te verbeteren.
Software-raamwerk
"Voor zijn studenten en andere geïnteresseerden heeft Dijkman de BPM Game ontwikkeld"
Datagedreven bedrijfsproces-optimalisatie houdt zich bezig met het ontwikkelen van de modellen, tools en technieken die dit mogelijk maken. Dijkman heeft een software-raamwerk ontwikkeld om bedrijfsprocessen in de praktijk te verbeteren. Dit wordt gebruikt via het European Supply Chain Forum, een netwerkorganisatie van academici, studenten en grote bedrijven.
Met het raamwerk wordt een digital twin gemaakt van het bedrijfsproces. Hiertoe worden data-aggregatie, simulatie en optimalisatie gecombineerd. In deze 'digitale kopie van de werkelijkheid', worden de oplossingen in de praktijk getoetst voordat ze in het daadwerkelijke proces worden doorgevoerd. Het raamwerk is bovendien uit te breiden, zodat een volgende oplossing er makkelijk aan is worden toegevoegd en worden gebruikt.
Voor zijn studenten en andere geïnteresseerden heeft Dijkman de  BPM Game ontwikkeld. In deze 'serious game' kunnen deelnemers eerst het proces ontwerpen dat klanten naar hun inzicht het beste bedient, de laagste operationele kosten heeft en qua tijd is geoptimaliseerd. In een virtueel bedrijf wordt het ontworpen proces vervolgens getoetst en verder verbeterd. Dijkman maakte voor dit spel een digital twin van een bancair proces.
Chipsector
Dijkmans interesse gaat vooral uit naar voorspellende technieken. Daarbij wordt bijvoorbeeld geraamd hoelang bepaalde dingen gaan duren. Dit is mede van belang bij de inkoop van materialen en onderdelen. Dijkman werkt samen met NXP, Nexperia en ASML, alle drie spelers uit de chipsector.
Voor de optimalisatie van hun bedrijfsprocessen is belangrijk dat leveranciers op tijd leveren. Als één leverancier te laat levert, schuift alles op. De afhankelijkheden zijn groot, terwijl al gauw verspilling op de loer ligt.
NXP bijvoorbeeld kan normaliter geen grote voorraden aanleggen omdat elk jaar een nieuwe versie van zijn specifieke chips uitkomt. Overigens speelt dit probleem momenteel niet aangezien deze chips door de grote vraag niet zijn aan te slepen. De vraag is daarom niet wanneer iets moet worden geproduceerd maar hoe de gerealiseerde productie zo eerlijk mogelijk over de klanten kan worden verdeeld. Maar als de chip-crisis over een jaar of twee voorbij is, komt de datagedreven bedrijfsproces-optimalisatie in deze sector weer centraal in de belangstelling te staan.
Research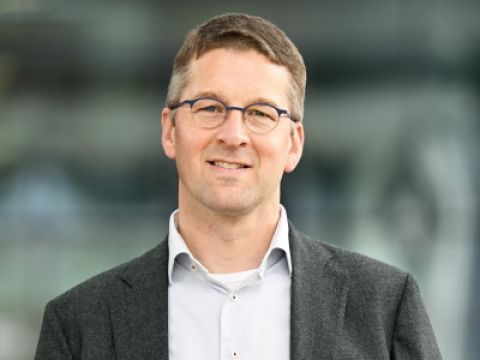 Verder doet Dijkman veel research in de sector transport en logistiek in Eindhoven en omgeving. Een van zijn meest succesvolle projecten is het door de EU gesubsidieerde GET Service project dat heeft geleid tot implementaties bij de projectpartners Portbase, Jan de Rijk Logistics, PTV en twee spin-offs.
Dijkman concludeert dat de digitale transformatie de manier waarop organisaties te werk gaan, dramatisch verandert. Veel interactie die voorheen face to face ging, verloopt nu digitaal. De interacties tussen organisaties onderling alsmede tussen organisaties en hun klanten gaan thans veel efficiënter. Hele bedrijfsculturen zijn veranderd.
Dijkman: 'Maar bij het gebruik van data voor doeleinden anders dan het faciliteren van die interacties, zitten we nog slechts aan het begin. Bij de meeste bedrijfsprocessen worden data voor optimalisatie op een ad-hoc manier geaggregeerd. Excel is nog altijd de meest gebruikte tool voor data-analyse.
Volgens Dijkman moeten we op den duur toe naar organisaties die altijd alle relevante informatie real time en op een gemakkelijk te interpreteren manier beschikbaar hebben.