EasyComp electronic Point of Sale (EePOS) is an electronic POS system that is easy to set up and use.
The custom-made POS system is built for stores of all shapes and sizes, driven by simplicity, our system takes over all sleep-inducing accounting tasks! This way you can deal with the sale of your products.
Our electronic point of sale (also known as "ePOS" or "POS") helps you run your business by managing your sales, payments, records, inventory, and more.
Start selling wherever your customers are.
EePOS makes it easy to sell in person, online, over the phone or in the field. It is easy to use, and no training is required.
Add a synced online store, no encryption required. Sell via Instagram and Facebook with a tap. Offer your customers local pickup, delivery and shipping.
Manage your entire business from one place
Add the tools you need for your next step.
As your goals shift, you can quickly add tools that help your business, from managing team members or adding devices and locations, all with a few taps.
Accept remote payments with invoices.
Take payments over the phone and process them directly on your computer.
Plan, manage and pay team members with Team management.
Sell at the counter, on the go or online, so you never miss a sale.
Find out what your customers bring back time and time again.
Increase customer loyalty with powerful customer management software and better understand your customers with any card payment.
Follow the pre- and purchases with the profiles of the customers.
Verzamel feedback van klanten om de ervaring te verbeteren. Houd een kaart in het bestand voor snellere, eenvoudigere kassa's. Bied cadeaubonnen persoonlijk en online aan.
Self-checkout retail solutions
Selfservice afrekenen is nu een consumentenverwachting in de meeste retailomgevingen. EePOS speelt al meer dan 10 jaar een leidende rol in de evolutie en innovatie van Self-Checkout. Na het ontwikkelen van revolutionaire oplossingen leek het alleen geschikt om de EePOS Retail-technologieproductlijn naar een hoger niveau te tillen.
It's not about the technology, it's about the people. That is the essential truth in any service industry. Technology is an enabler: it allows employees to connect with consumers and close sales repeatedly, with greater efficiency and productivity.
We put your idea at the heart of everything we do. We deliver digital solutions that transform your operations across the supply chain, so that every sales meeting adds value.
Your retail business – no matter how big or small it is, or how focused or spread – should always be open because consumers always think about buying something... And they don't want to wait for an opening time.
Reduce friction, increase sales
Open, closed or in between – modern connected retail makes it easy for consumers to connect with your brand and your goods. And that means reducing any kind of friction between the consumer's desire and the final checkout.
Your business needs end-to-end visibility for all its operations. That's a given. But what really makes the difference is when store employees – the people who encounter REAL consumers every day – have as much visibility as the people above them.
Retail thrives when it's people-centered
And that means consumers can easily find the things they want and buy them at the right price. It means cutting away as many obstacles as possible to making the sale. Sales thrive when the shop floor or website is seamlessly connected to everything from stock to advice, to checkout.
24/7 support with well-defined SLAs that keep your custom software running.
Tailor-made for your business
We are trusted by startups as well as small, medium and large enterprises.
Our retail software development process
We have the in-depth expertise, trusted technology and human-centered innovation ability to support our Retail &Hospitality customers in their journey to digital transformation. By optimizing today, we can start shaping with you tomorrow.
Our software development process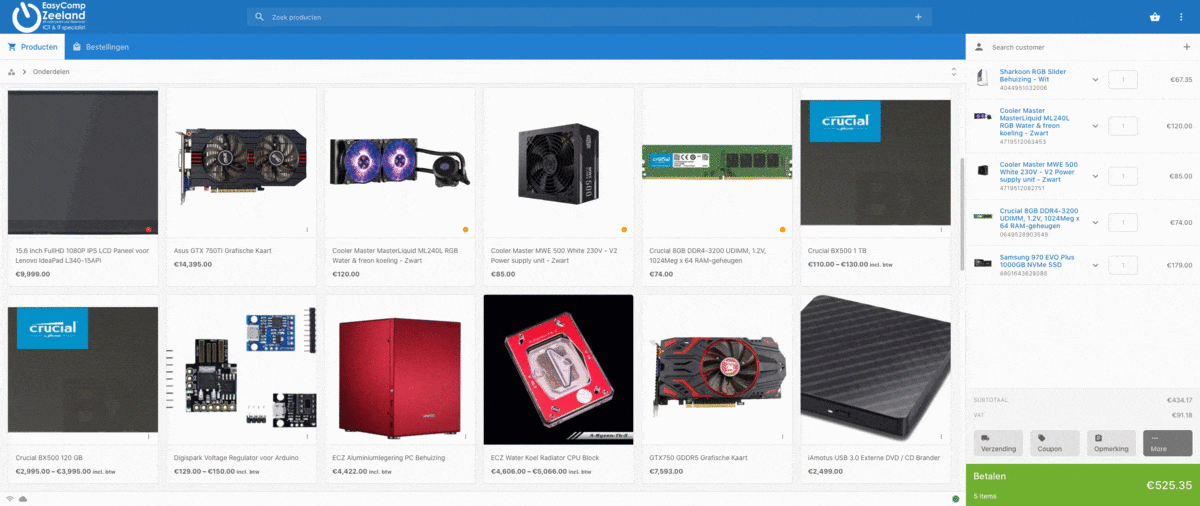 We offer tailor-made software development services at different price levels, depending on the size and requirements of your software project.
Technical complexity
Complex design specifications and advanced job requirements make the software development process complex, time-consuming, and costly.
Third-party integrations
Integration with third-party software systems, such as payment gateways, cards, ERPs or CRMs, also affects the cost of software development.
Features and functionalities
The number of features you want is the largest cost drivers. Screens, buttons, fields involved, the amount of logic needed can drastically change the cost.
Custom design
Custom user interfaces are quite complex to design and deploy accurately. Therefore, they often cause the cost of software development to increase.
More information or a quote?
Tell us about your project and we will come back to you with a realistic cost estimate for your project.
Since the beginning of SCompService Zeeland, Now about 15 years ago. We are engaged in everyday digitization for both home, on the road and in the office.
Of course, technology has come a long way since then and the variety of information objects we manage has changed a lot, but one principle has remained constant: we have always focused on the intersection of people, processes and information. As a pioneer in Intelligent Information Management, we help organisations put their information to work.
Ready for the best solution for your IT & ICT situation?
I changed my password to "incorrect". So when I forget what it is, the computer will say, "Your password is incorrect".