Kies het kanaal
Ga via https://teams.microsoft.com/ naar een kanaal in het team waar u uw bestanden wilt delen.
SharePoint
Selecteer eerst het tabblad Bestanden en klik daarna op Openen in SharePoint. SharePoint wordt in uw webbrowser geopend met de bestandsstructuur voor uw team.

Selecteer de map
Klik op '+ Nieuw' >Map. Geef de map een naam en klik op Maken.

Acties weergeven
Klik met de rechtermuisknop op de 3 verticale puntjes (die worden weergegeven wanneer u de map selecteert) bij de map die u zojuist hebt gemaakt en kies Gegevens.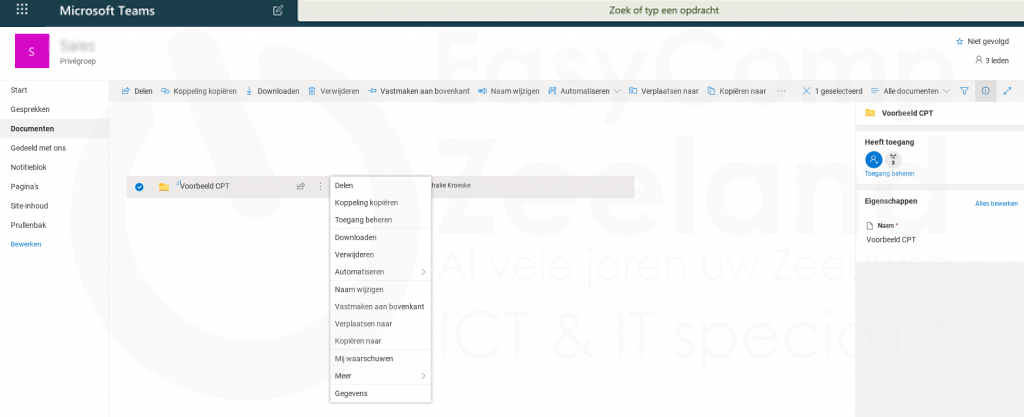 Toegang beheren
Selecteer Toegang beheren in het detailvenster.
Wijzigen in alleen weergeven
Selecteer de vervolgkeuzepijl onder Leden en vervolgens Wijzigen in alleen weergeven.
Voeg vanaf nu de bestanden toe, waarvan u niet wilt dat collega's deze map kunnen bewerken. U kunt bestanden toevoegen aan de map vanuit Teams of SharePoint – de wijzigingen worden op de achtergrond weergegeven.
Als u een alleen-lezen bestand naar een map wilt verplaatsen of kopiëren zonder dezelfde machtigingen, betekent dit dat teamleden de kopie van het document kunnen bewerken.