Met zoveel computergebruik tegenwoordig draaien rond het internet en communiceren met anderen, is het belangrijk dat u begrijpt wat een netwerk precies is. Zonder netwerken kon alle communicatie tussen uw computer en andere computers, of het nu gaat om instant messaging, e-mail, surfen op het web of het downloaden van muziek, niet worden bereikt. Deze tutorial zal ernaar streven om u te leren over netwerken en hun belang. We zullen ook uitleggen wat de apparatuur is die nodig is om een netwerk in uw huis op te zetten. Wanneer u klaar bent met deze tutorial, zult u hopelijk een veel grotere kennis hebben van hoe de wereld van computers werkt.
De definitie van een netwerk in zijn meest elementaire concepten is tenminste twee onafhankelijke apparaten die met elkaar kunnen communiceren. Netwerken kunnen variëren in grootte van twee computers met een kabel ertussen, tot een kantoornetwerk bestaande uit 100's of 1000's apparaten.
De meeste thuisnetwerken bestaan uit 2 of meer computers met daarin ingebouwde netwerkkaarten. Ze worden vervolgens verbonden met een RJ45-kabel of een ander medium met een hub of router met een ingebouwde hub. Deze hub of router wordt vervolgens verbonden met uw kabelmodem of DSL-modem, zodat uw computers in het netwerk toegang hebben tot internet. Hieronder, op figuur 1, ziet u een basisnetwerk dat precies bestaat uit wat hierboven wordt besproken.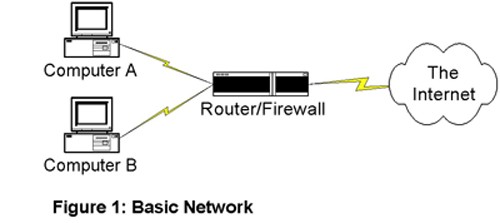 Laten we samenvatten wat we hierboven zien en enkele van de afzonderlijke items definiëren. We hebben twee computers, met het label Computer A en B, die beide zijn aangesloten op een router met een ingebouwde hub. De computers zijn aangesloten via RJ45-bekabeling die in verschillende lengtes bij bijna elke computerwinkel kan worden gekocht. Het ene uiteinde van de RJ45-kabel wordt aangesloten op de netwerkkaart aan de achterkant van uw computer en het andere uiteinde wordt aangesloten op een lege poort op de router.
De router bevat een 4-poorts hub die u op dit moment gebruikelijk zult vinden in bijna alle merken die op de markt zijn. Met deze hub/router kunnen alle apparaten in uw netwerk verbinding met elkaar maken, omdat alles wat op de hub/router is aangesloten, ook de mogelijkheid heeft om met elkaar te praten. De router wordt vervolgens verbonden met de DSL-modem of kabelmodem waarmee uw hele netwerk het internet kan bereiken.
Zoals u kunt zien, is het maken van een thuisnetwerk niet moeilijk of duur, zoals u misschien hebt aangenomen.
Dit kan ook worden bereikt met draadloze netwerken, en de concepten zijn allemaal hetzelfde. U hebt alleen draadloze netwerkkaarten en een draadloze router nodig. U bespaart zelfs een paar centen omdat u de RJ45-kabels niet nodig hebt. De enige verschillen zijn dat de draadloze netwerkkaarten en draadloze routers een verstoringsgevoelige signaal hebben.
Nu u weet wat een netwerk is, laten we voortbouwen op enkele van deze concepten. Nu u weet dat een netwerk een stel onderling verbonden apparaten is, wat denkt u dat veel onderling verbonden netwerken zijn? Ja, u raadt het al, u gebruikt er nu een, het is iets wat het internet heet. Laten we eens kijken naar het woord internet. Inter betekent tussen en Net is een afkorting voor het woord netwerk. Internet betekent dus tussen netwerken. Dat is precies wat het internet is, het is de verbinding tussen een groot aantal netwerken. Wanneer u verbonden bent met internet en u informatie aanvraagt, of dat nu via een website of e-mail is, doorkruisen uw gegevens eigenlijk veel netwerken die allemaal onafhankelijk eigendom zijn en worden beheerd voordat uw gegevens de eindbestemming bereiken.
Al deze netwerken kunnen met elkaar praten via iets wat routering wordt genoemd, wat we in een andere zelfstudie zullen bespreken. Zoals u kunt zien, is internet geen entiteit op zich, maar bestaat het eerder uit vele kleine delen. Nu u weet hoe u een thuisnetwerk moet opzetten, kunt u er een instellen zodat u en uw gezin tegelijkertijd op internet kunnen zijn. Het verhoogt niet alleen de efficiëntie van uw internetverbinding, maar ook uw netwerk zal het internet zelfs een beetje groter maken.